Atlas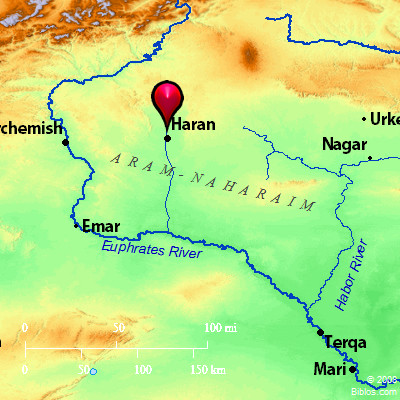 ---
Maps Created using Biblemapper 3.0
Additional data from OpenBible.info
---
You are free to use up to 50 Biblos coprighted maps (small or large) for your website or presentation. Please credit Biblos.com.
Occurrences
Genesis 25:20
Isaac was forty years old when he took Rebekah, the daughter of Bethuel the Syrian of Paddan Aram, the sister of Laban the Syrian, to be his wife.
Genesis 28:2 Arise, go to Paddan Aram, to the house of Bethuel your mother's father. Take a wife from there from the daughters of Laban, your mother's brother.
Genesis 28:5 Isaac sent Jacob away. He went to Paddan Aram to Laban, son of Bethuel the Syrian, Rebekah's brother, Jacob's and Esau's mother.
Genesis 28:6 Now Esau saw that Isaac had blessed Jacob and sent him away to Paddan Aram, to take him a wife from there, and that as he blessed him he gave him a command, saying, "You shall not take a wife of the daughters of Canaan,"
Genesis 28:7 and that Jacob obeyed his father and his mother, and was gone to Paddan Aram.
Genesis 29:4 Jacob said to them, "My relatives, where are you from?" They said, "We are from Haran."
Genesis 31:13 I am the God of Bethel, where you anointed a pillar, where you vowed a vow to me. Now arise, get out from this land, and return to the land of your birth.'"
Genesis 31:18 and he took away all his livestock, and all his possessions which he had gathered, including the livestock which he had gained in Paddan Aram, to go to Isaac his father, to the land of Canaan.
Genesis 33:18 Jacob came in peace to the city of Shechem, which is in the land of Canaan, when he came from Paddan Aram; and encamped before the city.
Genesis 35:9 God appeared to Jacob again, when he came from Paddan Aram, and blessed him.
Genesis 35:26 The sons of Zilpah (Leah's handmaid): Gad and Asher. These are the sons of Jacob, who were born to him in Paddan Aram.
Genesis 46:15 These are the sons of Leah, whom she bore to Jacob in Paddan Aram, with his daughter Dinah. All the souls of his sons and his daughters were thirty-three.
Encyclopedia
PADDAN-ARAM
pad'-an-a'-ram or p.-ar'-am (paddan 'aram; Septuagint Mesopotamia tes Surias; the King James Version Padan-aram): In Genesis 48:7, Paddan stands alone, but as the Septuagint, Sam, and Peshitta read "Aram" also, it must in this verse have dropped out of the Massoretic Text. In the time of Abraham, padanu occurs on the Babylonian contract-tablets as a land measure, to which we may compare the Arabic feddan or "ox-gang." In the Assyrian syllabaries it is the equivalent of iklu, "a field," so that Paddan-aram would mean "the field of Aram," and with this we may compare Hosea 12:12 (Hebrew 12:13) and the use of the Hebrew sadheh in connection with Moab and Edom (Judges 5:4 Ruth 1:6).

Furthermore, [`padanu] and harranu are given as synonyms with the meaning of "road."

Paddan-aram occurs only in the Priestly Code (P), but it corresponds to the "Haran" of the older documents. The versions agree in translating both as Mesopotamia, and identify with the home of the patriarchs and the scene of Jacob's exile the district of Haran to the East of the Upper Euphrates valley. More in harmony with the length of Jacob's flight, as indicated by the time given (Genesis 31:22, 23), is Harran-el-`Awamid, an ancient site 10 miles to the East of Damascus, which satisfies all the demands of history.

See ARAM.

W.M. Christie
---
PADAN-ARAM, very probably this is only the Hebrew name for the Greek Mesopotamia.
Strong's Hebrew
H6307: Paddan or Paddan Aram
the place where Rachel died