Atlas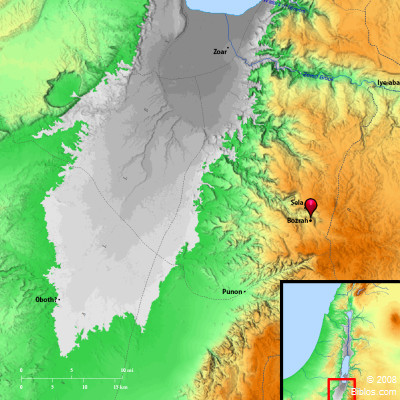 ---
Maps Created using Biblemapper 3.0
Additional data from OpenBible.info
---
You are free to use up to 50 Biblos coprighted maps (small or large) for your website or presentation. Please credit Biblos.com.
Occurrences
Deuteronomy 1:2
It is eleven days' journey from Horeb by the way of Mount Seir to Kadesh Barnea.
Deuteronomy 2:1 Then we turned, and took our journey into the wilderness by the way to the Red Sea, as Yahweh spoke to me; and we encircled Mount Seir many days.
Deuteronomy 2:5 don't contend with them; for I will not give you of their land, no, not so much as for the sole of the foot to tread on; because I have given Mount Seir to Esau for a possession.
1 Chronicles 4:42 Some of them, even of the sons of Simeon, five hundred men, went to Mount Seir, having for their captains Pelatiah, and Neariah, and Rephaiah, and Uzziel, the sons of Ishi.
2 Chronicles 20:10 Now, behold, the children of Ammon and Moab and Mount Seir, whom you would not let Israel invade, when they came out of the land of Egypt, but they turned aside from them, and didn't destroy them;
2 Chronicles 20:22 When they began to sing and to praise, Yahweh set ambushers against the children of Ammon, Moab, and Mount Seir, who had come against Judah; and they were struck.
2 Chronicles 20:23 For the children of Ammon and Moab stood up against the inhabitants of Mount Seir, utterly to kill and destroy them: and when they had made an end of the inhabitants of Seir, everyone helped to destroy another.
Ezekiel 35:2 Son of man, set your face against Mount Seir, and prophesy against it,
Ezekiel 35:3 and tell it, Thus says the Lord Yahweh: Behold, I am against you, Mount Seir, and I will stretch out my hand against you, and I will make you a desolation and an astonishment.
Ezekiel 35:7 Thus will I make Mount Seir an astonishment and a desolation; and I will cut off from it him who passes through and him who returns.
Ezekiel 35:15 As you rejoiced over the inheritance of the house of Israel, because it was desolate, so will I do to you: you shall be desolate, Mount Seir, and all Edom, even all of it; and they shall know that I am Yahweh.
Ezekiel 36:5 therefore thus says the Lord Yahweh: Surely in the fire of my jealousy have I spoken against the residue of the nations, and against all Edom, that have appointed my land to themselves for a possession with the joy of all their heart, with despite of soul, to cast it out for a prey.
Encyclopedia
BOZRAH
boz'-ra (botsrah, "sheepfold"; Bosorrha, Bosor):

(1) The capital of Edom, a city of great antiquity (Genesis 36:33 1 Chronicles 1:44 Isaiah 34:6; Isaiah 63:1 Jeremiah 49:13 Amos 1:12). It may be identical with Buceirah, which lies about 7 miles Southwest of Tufileh, on the main road to Petra.

(2) A city in Moab mentioned in Jeremiah 48:24. It is probably identical with Bezer, the city of refuge. It may be represented today by Qusur Bashair, which towers lie some 15 miles Southeast of Dibon. In this case Beth-gamul would be identical with Jemail, 8 miles East of Dibon, and Beth-meon with Ma`in, Southwest of Medebah.

W. Ewing